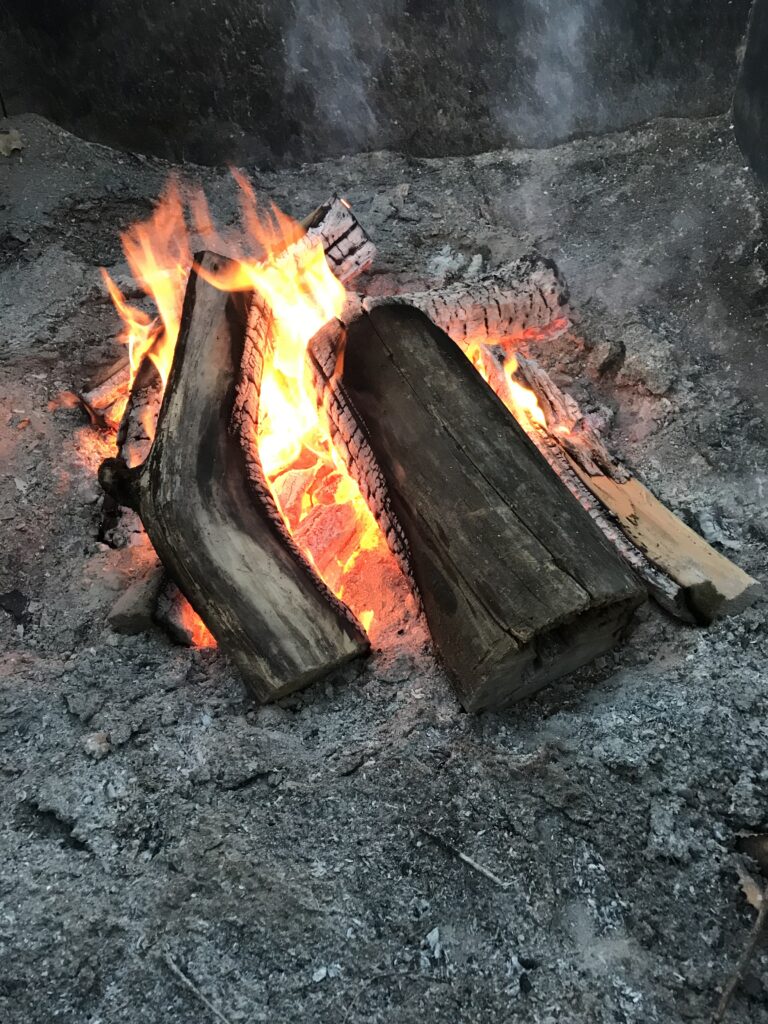 When they landed, they saw a fire of burning coals there with fish on it, and some bread. (John 21:9 NIV)
Turn back the clock nearly 50 years and you might find me sitting beside a campfire with other campers. Inside the stone circle we piled some sticks and ignited a blaze, careful to sit downwind of the smelly, eye watering smoke. We sat on logs, or a grassy spot on the ground. We made Hobo Stew or hot dogs, munched chips, and enjoyed gooey-chocolaty s'mores. As the fire began to burn down our counselors handed out songbooks, which by now we needed our flashlights to sing along. We shared about our Christian journeys; how God played a role in our lives and ways we could grow in our faith. Jesus met us in the fading light of dusk and the glow of the campfire.
As I read these words from the gospel of John, I can visualize the disciples at their own meeting with Jesus next to the campfire. Jesus shared a campfire meal of fried fish and bread. He used this instance as the perfect time to reinstate Peter. For the disciples this started their ministries with confidence.
I can relate to John's story. Just as those disciples met with Jesus at the campfire, I too encountered Jesus there, next to the campfire, in the very beginning of my faith-forming years. How many lives for Christ will we, as faithful Christians, be able to impact, by providing a campfire for the campers of today and in the future? Praise God for the times he meets us beside the campfire.
Prayer: Lord we praise you for your presence in our lives, that you meet us in our everyday situations. We pray for those campers who will learn to know and love you through the ministry at Camp Fontanelle. Thank you Lord for the opportunities to serve. In Jesus' name, Amen.